Tiomila 2018: Make Ankkuri Great Again!
Here we go! After a preparation weekend at FinnSpring in Espoo with great third place from the ladies' team, it was time to go across the sea and challenge all Nordic teams at one of the biggest orienteering events in the world: Tiomila! Unfortunately, just a few hours before the departure we learned about the injury of our starter, Andy, who wouldn't join us for the adventure this time. But we had it all planned and we replaced him with an old experienced runner: Heksa.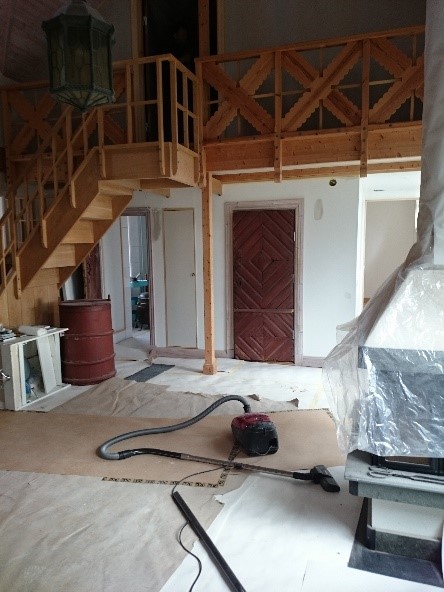 But how to get there? With a Lada obviously! Thanks to a continuous interest in the Russian market we managed this year to get probably one the best recruits Ankkuri has ever dreamed of (#MakeAnkkuriGreatAgain) a Lada! Can you imagine a better way to travel than in a Russian Lada? It was perfect! There is so much space inside that we managed to fit the ten guys inside and travel from Salo to Turku in a blink of an eye. The boat trip was relatively uneventful and quiet. With a boat full of boring orienteers, you can hope for some silence to get a proper night's sleep.

Early Friday morning we landed in Sweden and started our short journey to Tiomila. Since our coach, the good old Vesa, was already intimate with the owner of our accommodation, we didn't need to worry so much about the welcome we would receive. But it was far more different that we had imagined (and from the picture too). Just picture a nice house by the sea but on the inside, it's as if you have been robbed and are missing all your furniture. Indeed, the owner had warned us of small construction works happening in the house but we didn't expect that he was almost rebuilding his house. But we had a roof, a small kitchen and mattresses to put on the floor so it was more than enough.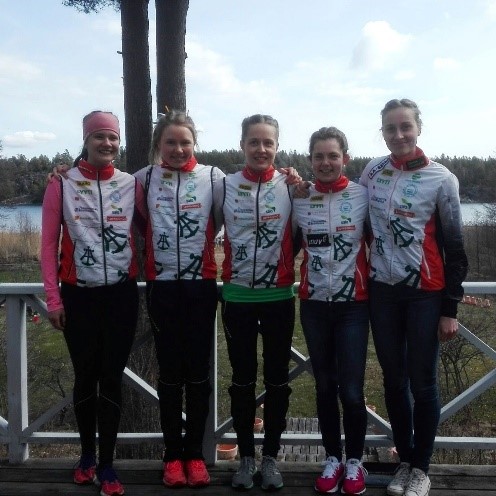 So, we decided to not stay too long inside and enjoy the great terrain nearby, time for training! But once again bad luck hit us and we lost one ankle from our great Russian finisher, Sergey, during the training. Concerned about his physical condition for European Championships starting next week, he preferred to get some rest instead of running with one foot. So, after careful consideration, Vesa chose himself to integrate into the team. But hopefully the girls team wouldn't be touched by this bad luck and were all ready to fight!

On Saturday afternoon it was time for the serious things to start with the women's relay (Selja, Heini, Sanna, Emily and Sanni). The beginning was quite tough with a small mistake in one of the first controls of the race. But they kept fighting and we could witness one off the biggest rises of Tiomila history I'm sure, from Heini: -125 places in one relay! And they kept rising in the result to finally reach a great 43th position. Good Job Girls!

And now time for the men! With Andy missing, Quentin was the one standing on the start line. And it was quite a start! With the help of Mikko, our second leg runner, they managed to put the team in second place just some seconds from the lead! Then, after a good third leg by the Lada owner, Mr Bogdan, it was time for me to enter the forest for the mythical long night of Tiomila.

Let me try to describe my feelings at that moment. For some months, I knew that I will be the one running this long night. Indeed, the moment I said that I liked long and tough legs, the coach persuaded me to run the long night with ready-made sentences like: "You know Max, people in Sweden don't consider you as men until you have run a long night". So here I was standing in the changeover area, with a strange mix of excitement and fear from the idea of running 15km in the dark and then add to that a lot more excitement when I saw my teammates doing such a good job to put me in the best conditions possible. Such nice feelings, maybe some of the best I have ever had in orienteering.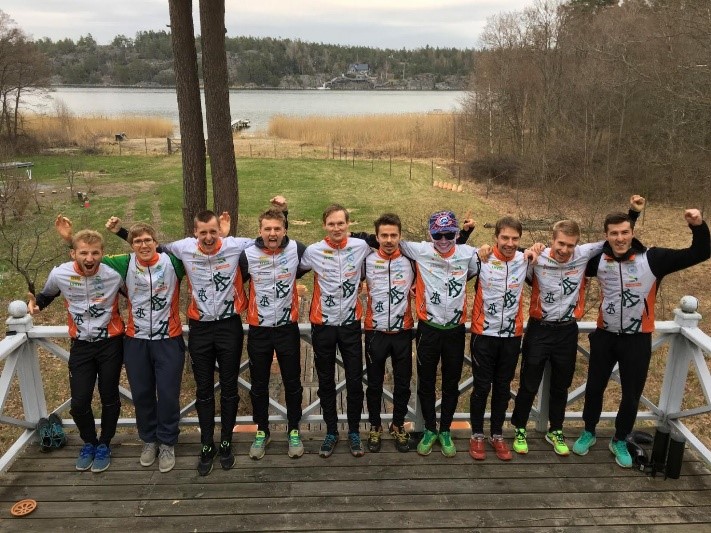 And this long night went quite good for me, I mean as good as a long night can be… From doing half time orienteering in the beginning to a stomach issue in the middle of the race with a first stop in the forest to do you know what (I want this post to keep a little dignity) and a second one in intimacy with the good Gustav. It made the end of the race quite a struggle after I managed to catch back up to the others but I had to fight to keep in contact with the group and I finished just one minute from the head of the group. A good experience and maybe we will see each other again long night!

Then it's a blackout for me… Even though I had planned to stay in the arena all night cheering for my partners and witnessing our glorious fight for the top thirty, I had underestimated the long night side effects… and finished my night in the accommodation, laying down in my bed without being able to sleep. But from what I heard, and see from the result, the rest of the team did well with small mistakes from leg to leg even from the people who had learned some hours ago they will be in the team. Good job guys! In the end, it's a nice 30th place for the guys and a lot of satisfaction considering the big changes that happened just before the race.

After I finished dying in my bed, I stepped out of the room to congratulate my teammates. I found them at the kitchen table discussing, probably about their races, so decided to join them. But the conversion subject was not what I expected as the coach asked me "So Max, what leg can you run in Jukola?" Yes, as a Finnish club, Jukola is always the biggest event for us and this good performance at Tiomila just fired up our motivation for it! It's just one month from now and we already can't wait to be there to Make Ankkuri Great Again!

-Maxime
Maxime Rauturier - 7.5.2018, 21:35